Learn More!
What we can do for you:
See Photos of Our Projects[/ezcol_1third_end]
---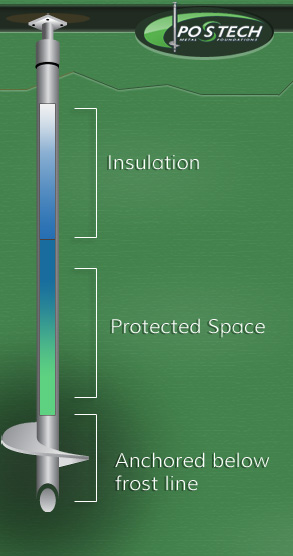 Postech Screw Piles
We are proud to be BC's exclusive piling contractor offering Postech Screw Piles. We are based on Vancouver Island and work on projects throughout BC. Postech Screw Piles are the most solid and stable piles ever designed. In response to growing climate changes, Postech designed Thermal Piles, a new environmentally friendly insulated heavily galvanized steel screw pile that is made in Canada.
The revolutionary insulation system ensures that the inside of the pile is maintained at a temperature that eliminates ice or frost build-up at the base of the pile; providing unparalleled protection against ground movement.
Postech Screw Piles
Our Canadian made pile system is made up of a large heavy gauge galvanized steel screw, which supports a variety of fixed or adjustable head plates. These parts work together to provide support and adaptability for practically a multitude of building projects. Vancouver Island Postech is the exclusive dealer and installer of Postech Screw Piles and we serve residential, commercial, light industrial, recreational or agricultural building projects.
Our specialized equipment ensures minimal to no disturbance to a customer's property and a rapid and accurate installation. We have the capability to install in nearly all weather and soil conditions including frozen soil. It is possible to build on our screw piles the moment they are installed because there is no curing period necessary as is the case with concrete.
Our Zero Risk Guarantee:
Vancouver Island Postech has 100% confidence in your satisfaction and we offer a Risk Free Guarantee – if you aren't satisfied with your Vancouver Island Postech installed screw piles, we will make it right or buyback each of the screw piles that we installed, within 7 days of the installation provided they haven't been built upon.[/box]
Always Call Before You Dig.
Call BC1. Call at 1-800-474-6886 or cell *6886